"Ramsgate is almost too good to be true..."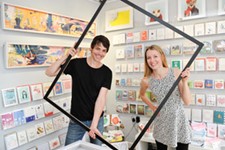 When actor Jody Anderson and his wife, ballet dancer Anna, moved to England from New York they knew they wanted to buy a permanent home and they thought they might want to start a business. However, they quickly realised that London was way out of their price bracket and they found themselves venturing into Kent, looking first at Whitstable and then at Sandwich. Then they found Ramsgate which as Jody says seemed "almost too good to be true." Affordable and picturesque, Jody thought Ramsgate offered "great potential" and so, three years ago, they took the plunge, bought a house and moved out of London to the Thanet coast. A year later they opened Blue Swift in the centre of Ramsgate just tucked away behind the harbour, and now the small gallery and framing business is firmly established and has a growing clientele.
Jody runs the framing side of the business while Anna leads on the gallery side, seeking out artists and makers from across the country. Work they stock includes prints, cards, jewellery and ceramics and every piece is unique and made in the UK. While showing work by local artists is important to them, they also like to introduce art work and crafts made by artists and makers living and working in other parts of the country.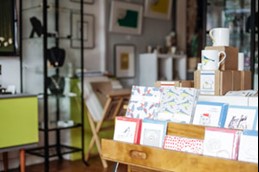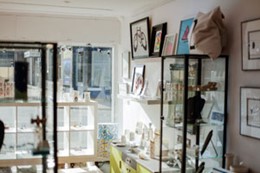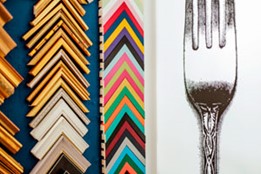 Jody and Anna's approach is paying off and Blue Swift now has a growing customer base. Some of whom are local and visit regularly, while others come from further afield.
Attracting visitors and building reputation was important, particularly in the first few months and so Jody and Anna focussed on putting on events to bring people through the doors. This approach worked well and now that there are other new businesses clustering nearby, footfall is increasing and business is growing.
"More people are moving down here and good things are happening. If a good property comes up for sale, it flies off the market really quickly and that's a sign that something is happening.."
Blue Swift Gallery and Framing
43 Queen Street, Ramsgate, Kent CT11 9DZ
07754 897506
www.blueswift.co.uk