"Margate has a real buzz about it..."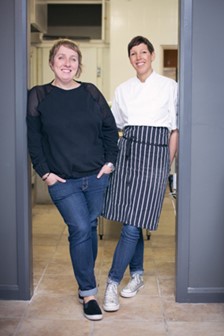 So says Lisa Richardson who, with her business partner, Rachel Seed chose Margate to launch new venture, GB Pizza Co.
Careers as a chef and food writer (Rachel) and as a journalist (Lisa) were followed by a spell running a successful gastropub in the West Country. And then the chance purchase of a 1974 VW Camper van and a 'portable' wood-fired oven led to a change of direction. After travelling up and down the country serving pizzas at farmers' markets, festivals and outdoor events, Rachel and Liza came to Margate in the summer of 2012 and served pizza al fresco on the Harbour Arm. Living in London at the time, they very soon decided that Margate was for them and they opened GB Pizza Co on the sea front in October 2012.
When Lisa and Rachel took over the site, it was in the poor condition but a summer of hard work and an eye for design transformed the space. A cool grey palette, striking use of graphics and vintage furniture gleaned from restoration sites gives GB Pizza Co the sort of laid back vibe that makes you want to stay... But as Lisa says, this is a 7- days a week business which is commercial to its core. This is what makes it survive and thrive.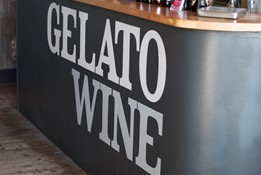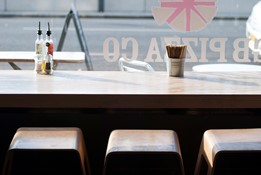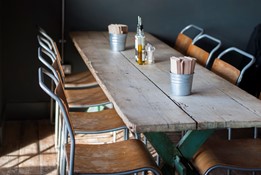 The Turner Contemporary has, Lisa thinks, made Margate "a year-round destination" and without the Turner, she doubts GB Pizza could operate successfully as a 12-month business. In addition to footfall, Lisa thinks the Turner also attracts a different demographic into the town which boosts her customer base beyond the local. Paradoxically, August can be the trickiest month. Locals tend to stay away and, as Lisa says, "visitors to the beach tend to bring picnics." 
The success of GB Pizza Co in Margate has given Lisa and Rachel a model they now feel can be taken elsewhere, and in July 2015 they will be opening Roost, on Cliff Terrace in Cliftonville. A rotisserie chicken and chips restaurant, the pair are utilising the GB Pizza formula once again: a simple menu, done well with impeccable sourcing and counter service with a warm welcome. With Fort's Cafe, Haeckels and Plinth already open, the hope is that Roost will attract Margate's and Cliftonville's all-year-round inhabitants to the family-friendly restaurant. With the successful sale of their London restaurant, Lisa and Rachel were keen to reinvest their money into Margate, where good premises and reasonable rents, along with the sizeable local and visitor populations, offer good commercial prospects
Margate is where home is though.
"In London, we say we're up from Margate..." .
GB Pizza Co
14a Marine Drive, Margate, Kent, CT9 1DH
01843 297700
www.greatbritishpizza.com