Visitor Ambassadors
A friendly welcome and personalised advice from someone who really knows their area is a winning formula in enhancing the visitor experience.
The Visitor Information Service has created a team of trained volunteer Visitor Ambassadors to share their enthusiasms for the wide variety of experiences and attractions Thanet has to offer visitors. Visitor Ambassadors are people who work in a role that brings them into contact with visitors.
A new FREE fun and interactive, online Visitor Ambassador Programme, has been developed and aimed at anyone who comes into contact with visitors to the area or who has a keen interest in promoting the area.
To access the website course please visit www.thanetvisitorambassador.co.uk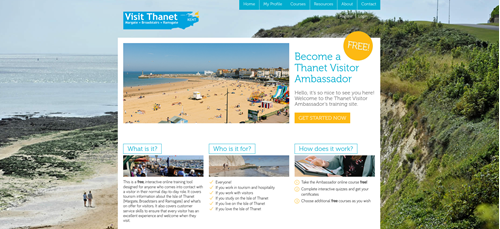 Following successful training Visitor Ambassadors are presented a badge to mark their status and will be able to:
Provide visitors with friendly and helpful advice
Have a good understanding of the range of attractions and destinations in Thanet
Pass on basic information about local amenities
Highlight attractions
Gain an understanding of visitor needs and interests and offer suggestions based on these interests
Know how to access more information through the full range of the Visitor Information Service
If you would like to join the growing team of Visitor Ambassadors, find out more from the Visitor Information Service tel: 01843 577577 or email: visitorinformation@thanet.gov.uk