We know that Thanet is a great destination and we want to work with you to make sure everyone else knows what the area has to offer. 
The most successful places have a simple shared story to tell that makes it clear what is unique and different about them. This makes a greater impact, attracts more visitors and benefits the businesses.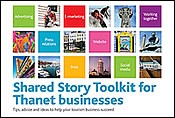 Working with the local industry, we have developed a Thanet Shared Story Toolkit for you to use, with lots of tips, advice and ideas to help your business celebrate and promote what is special about the whole area. The toolkit will give you a range of templates to help you write a marketing plan, press release or website brief. It will also give you access to an extensive image library, marketing copy, and itineraries for you to use in your marketing. There is no set way to use this Toolkit – you can dip in and out depending on what you are interested in and what support you would like:
Shared Story is great copy for you to use in your marketing and inspire your creativity.
Telling Our Story will give you lots of hints and tips on marketing, including digital, press, advertising and print.

Sharing our Story

 

will consider how working in partnership can benefit your business.

Pride in Our Story 

will explore how we can give our visitors a warm Thanet welcome.

Supporting Our Story is a great resource of images, templates, maps, facts and figures.
Please register to access full toolkit and image library.
We know we don't have all the answers, so if you have suggestions or tips of your own, we would love to hear from you. Or maybe you think there is something missing from the toolkit that you feel would be useful to your business and others. Please tell us what you think by emailing tourism@thanet.gov.uk
So explore, share and delve in  - we hope you will be inspired by the Shared Story Toolkit to work with others to develop Thanet as a place to visit, stay, enjoy and return. 
How we got here
Thanet is committed to the development of the visitor economy and has a new 
Destination Management Framework.
 The plan sets out the priorities for the next five years to help all stakeholders, organisations, businesses and individuals to work in partnership for Thanet to achieve its potential as a visitor destination. The Shared Story underpins and links the plan together.